It is not a registered medicine here but it is widely on sale. How is that possible?
CBD products on sale in Belfast.
Image: Niall Carson/PA Images
THE USE OF cannabis-based CBD products for medicinal reasons is no longer a taboo or unreported subject in Ireland.
From high-profile campaigns like Vera Twomey's to numerous other personal stories, like those of Noreen O'Neill and Brendan Flynn, the push for greater access to cannabis-based medical products is a visible one.
Also clear to see is that cannabis-based products are legally being sold in health food and specialised stores more and more across the country.
But while access to the products is becoming easier, there is still confusion among the public about their legality and dispute among doctors about their effectiveness.
There is also a lack of oversight on the products that are on sale leading to doubts about their reliability.
So what is the story?
CBD, or cannabidiol, is a chemical constituent of the cannabis plant and products based on it can be legally sold in Ireland.
CBD does not produce the same psychoactive effects that THC produces, so it does not get users high in the manner associated with the recreational use of cannabis.
CBD-based products have been used by patients suffering from a range of conditions including epilepsy, chronic pain, spasticity, insomnia and anxiety.
There is increasing clinical evidence about its success as a treatment but CBD is not currently authorised as a medicinal product by the Health Products Regulatory Authority (HPRA) in Ireland.
This means that it is not considered as a treatment option and CBD products can not be prescribed by doctors.
A recent decision in the United States, however, could point towards future changes here.
In June, a CBD-based drug called Epidiolex was approved by the Food and Drug Administration for use as a treatment for childhood epilepsy.
Clinical trials published in the New England Journal of Medicine showed that children using the drug had nearly 40% fewer seizures per month.
That trial was conducted on 120 children with Dravet Syndrome, the same condition Ava Twomey's daughter Ava suffers from.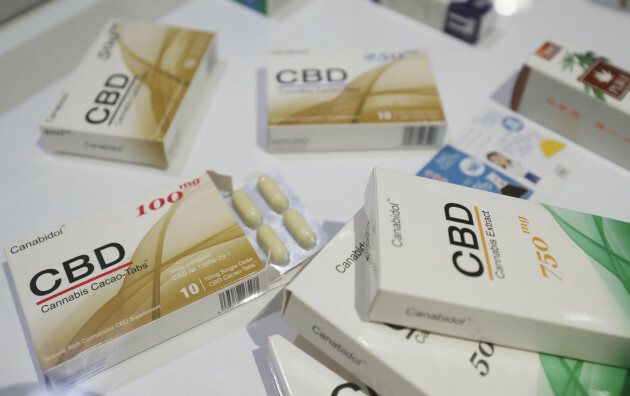 CBD products in tablet form.Source: Niall Carson/PA Images
CBD for sale
But while similar approval may take some time from the HPRA, CBD products will continue to be sold in Ireland, even if they are not being prescribed by doctors.
For Professor David Finn of NUI Galway, this does present some issues.
Finn is a professor of pharmacology and co-director of the Centre for Pain Research at NUIG.
He supports greater research into the use of medical cannabis and points to the positive evidence on childhood epilepsy in particular.
But he does have concerns about both the effectiveness of CBD as a treatment and how it is being marketed.
"People are kind of treating CBD as type of nutritional supplement or a health food, and it's a drug," he explains.
Cannabidiol is a drug that we've know about since the 1960s and like all other drugs it is going to have effects on the body and some of those effects may be beneficial, and there's evidence for that.Some of the published evidence is strongest for epilepsy, particularly for childhood epilepsy, and for inflammatory pain and maybe anxiety as well. But there may also be side effects.
"It seems to be fairly well tolerated overall, so there isn't any  strong evidence for severe side-effects, but there is some evidence for mild to moderate adverse effects like nausea, vomiting, diarrhoea and some fatigue and dizziness. As well as potential interactions with other drugs the patient may be taking."
Finn also shares some concerns about the unregulated CBD products that are currently on sale in Ireland and a lack of oversight.
"It's very hard to know exactly what the composition of some of the products is."
Some of them aren't tested rigorously for quality control. So there can be batch to batch differences. There will be some cannabidiol in there but how much is in there is an open question.
"Some of these preparations are referred to as CBD oil or cannabis oil, which usually means it's an oil extracted from the plant. But the cannabis plant is extremely complex, it has over 700 constituents in it, about 114 of these are cannabinoids."
So that's the issue. It's very hard to guarantee to patients that they're taking the same thing each time they go and buy these preparations. What they buy from a pharmacy in Cork might be different to what they get from a health food store in Dublin.
Among the concerns would be that the products have trace elements of THC from the extraction process. Products with THC at levels greater than 0.2% would be illegal.
Finn stresses that he is not saying CBD products on sale here contain THC, only that there is often no testing to show otherwise.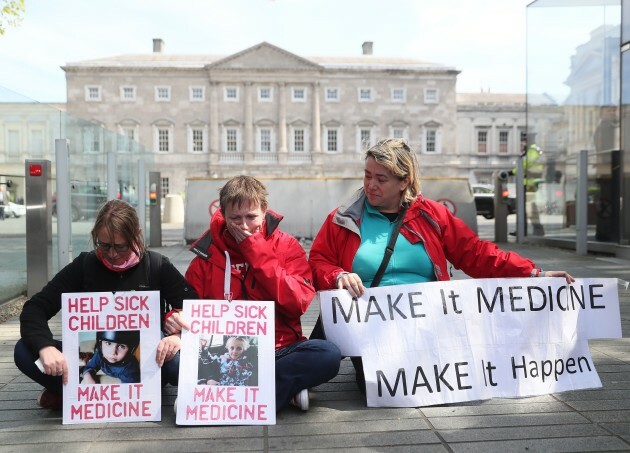 Vera Twomey (centre) protesting outside the Dáil.Source: PA Images